I have set up a virtual url.
This will ensure that this site will always
be up and running. If you have bookmarked
this page or plan on revisiting this site,
delete your current bookmark/favorite and
re-bookmark the link below....Thanks
YOU MUST RIGHT CLICK
THE LINK!
TO BOOKMARK IT
---
Netscape
Internet Explorer
Right click
Right click
LINK and...
LINK and...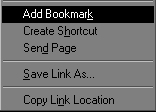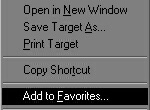 Here is the link to bookmark




Rickster's Place




This links to: http://www.bigfoot.com/~rickster2
---
Please understand that this link is virtual
and this is the only way to bookmark it.
---
Now click on the above link to re-enter
Rickster's Place, or hit your back button.
THANKS!
---


www.bigfoot.com/~rickster2
www.bigfoot.com/~rickster2
www.bigfoot.com/~rickster2
www.bigfoot.com/~rickster2
www.bigfoot.com/~rickster2



---