Have you ever wondered where your Favorite Disc Jockey's have worked, or where they are now?
Check out this Great Site, and you may be suprised! Just Click on the Button.


KMLE - Camel Country FM 108 from Phoenix, Arizona
You can Listen to this Station on the Internet. I listen all Day at Work!

WBAP 820 AM NEWS/TALK RADIO - Dallas, Texas
You can hear this Station everywhere in the Country at Night,
or anytime on the Internet.

WOLF 99.5 FM COUNTRY RADIO - Dallas, Texas
All kinds of fun on this Site.
You can listen to it Live if you have Real Audio

WACO 100 Country Radio 99.9 FM - Waco, Texas

Billy Bob's Texas
The place to go if you are in Ft. Worth, Texas

Free search engine submission and placement services!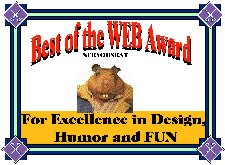 Rick's Place was named Best of the Web by Rob's World.

Rick Whitney is a member of




Join the Blue Ribbon Online Free Speech Campaign!

Clicking on a Name will take you where you want to go
Home Page
Personal Info
Favorite Links

Rick Whitney * Temple, Texas